I've had this trip1 on my mind for a while now and, thanks to a bank holiday weekend, I decided now was the time!
I feel half the struggle with microadventures is fitting as much as possible into the little time you have. I decided to take this to the extreme and fit five days worth of cycling into the three day weekend.
Friday
I'm writing this sprawled across two leather sofas in the New Forest Youth Hostel on the first night.2 I feel like the adventure started waiting at the train station at 06:45 this morning, bike (and back) fully ladened and about to catch the train to work. The adventure took a brief break between 07:30 and 16:30 but soon got back into full swing as I plummeted downhill, through the countryside just minutes from the city centre.
I took the back roads via Hursley, past North Baddesley and through Calmore (my first visit here) before arriving in the New Forest through Ashurst.
Ashurst is my benchmark; it feels like the Forest. I think this is largely due to it being dubbed "Ashurst New Forest" in the automated announcements on the train I'd be taking home from work (if I were not on an adventure!) to save confusion with Ashurst, Kent (in case someone aboard the train was very lost). Ashurst also has a campsite nestled amid the heathland that is characteristic of this particular forest.
En route, I saved a horse who'd managed to tangle his matted tail around a barbed wire fence. He actually seemed genuinely grateful when he turned around to see his rescuer! I also met a pleasant man with a border terrier and had the obligatory "I have one of those too" chats.
After Lyndhurst I got bored following the main road down to Burley so decided to make a detour. I found a suitable one on the map but, alas, turned too early. I noticed my mistake pretty soon and opened an OS map. Unfortunately (again), my quick glance wasn't quite accurate enough and I ended up in deep mud with a fence between me and my road. Legs sore from brambles, I unloaded my bike and heaved it over the fence. Luckily for me, some form of mammal had worked itself a small passage beneath the wire fence that was just big enough for a slightly larger mammal - me - to wriggle through.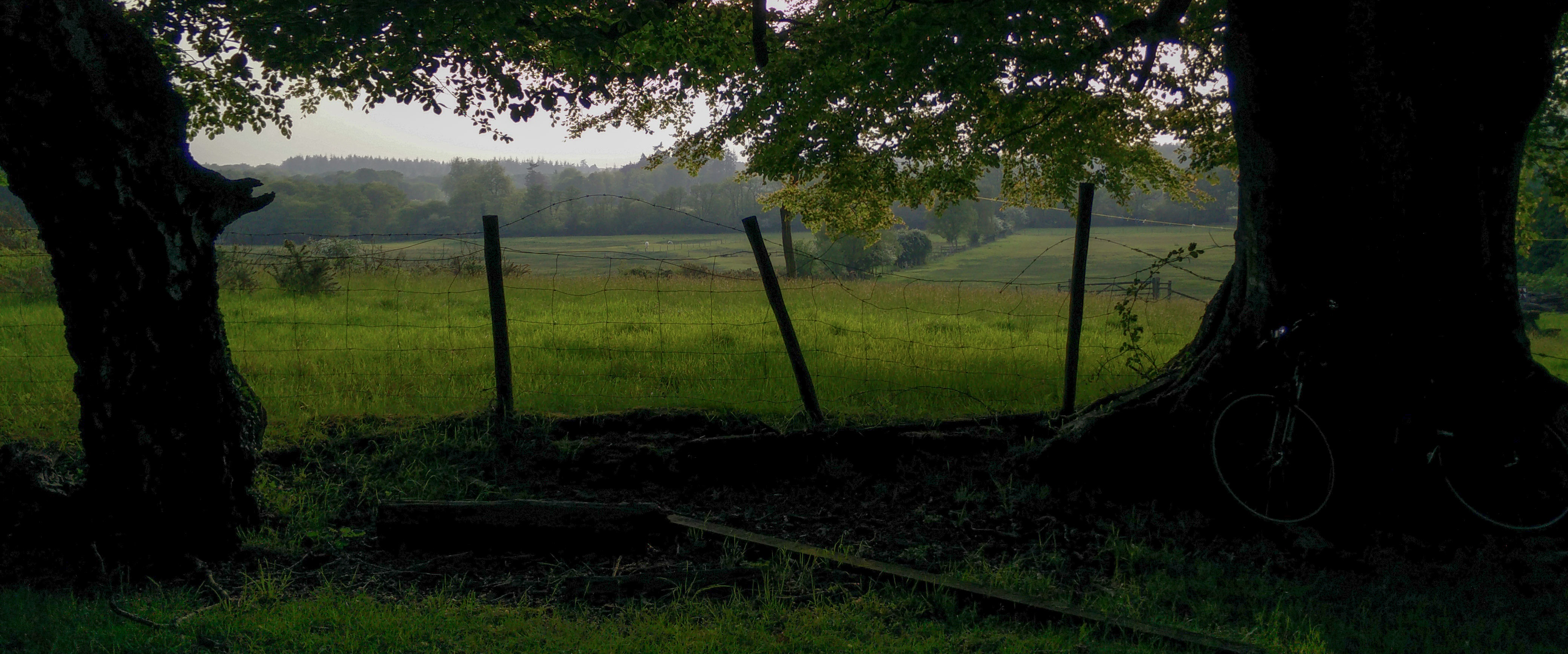 Back on the right road, the detour was worth it. It turned out to be a quaint, meandering little road all the way down to the hostel. I stopped to take a photo over some pretty fields and as I set off, bumped into a young gentleman and we began to chat. From now on we shall refer to this gentleman as Ed, for that was his name.
It turned out Ed and I had a lot in common - our jobs, where we lived, where we worked and an enthusiasm for cycling. So we exchanged contact details and suggested we might meet up later in the weekend.
The hostel is weirdly quiet. There aren't many people to talk to tonight - not as one usually expects in a hostel! Still, what a fantastic excuse for an early night.
---
Saturday
This morning started early. Not deliberately, but I woke up desperate for breakfast and a cup of tea. Having showered the night before, I had nothing else to do but check out and get going. Google's navigation (after a bit of coaxing to get it to go a slightly more interesting route) took me off-road up a sandy track over the heathland. It was empty at that time in the morning besides the mist still clinging to the hillsides and treetops.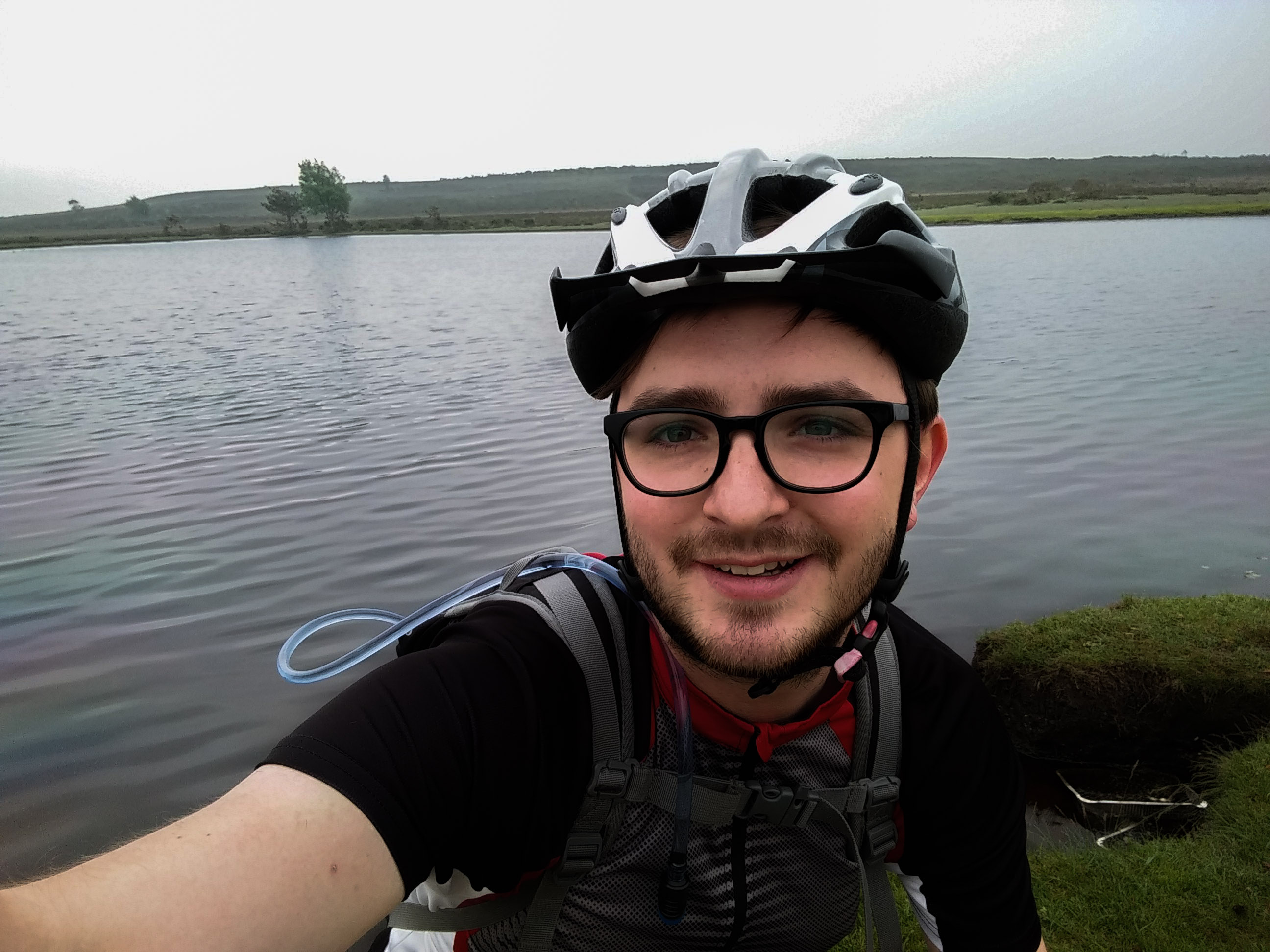 Cycling on sandy soil, it turns out, is pretty hard and on more than one occasion I jerked forwards over my handlebars. It wasn't long, however, until I was back on the road making faster progress.3
I made a quick stop at the New Forest Airfield Memorial. During WWII the New Forest was littered with airfields and many of the runways are still present today - if a little cracked and overgrown.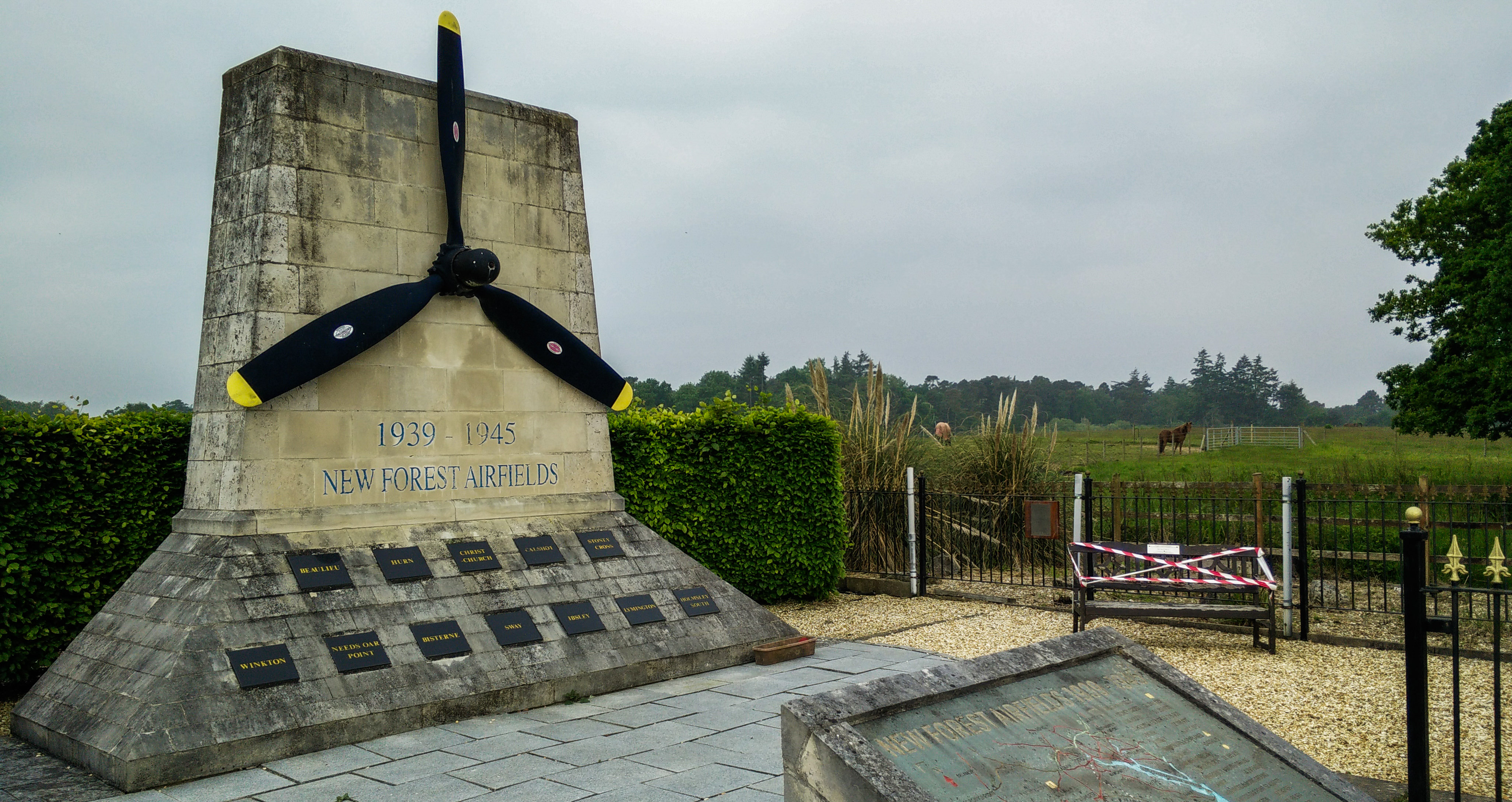 I was out of the New Forest by 8:30 and stopped at Tuckton Tea Gardens by the river in Christchurch for a cup of tea and an accidental slice of chocolate orange cake.4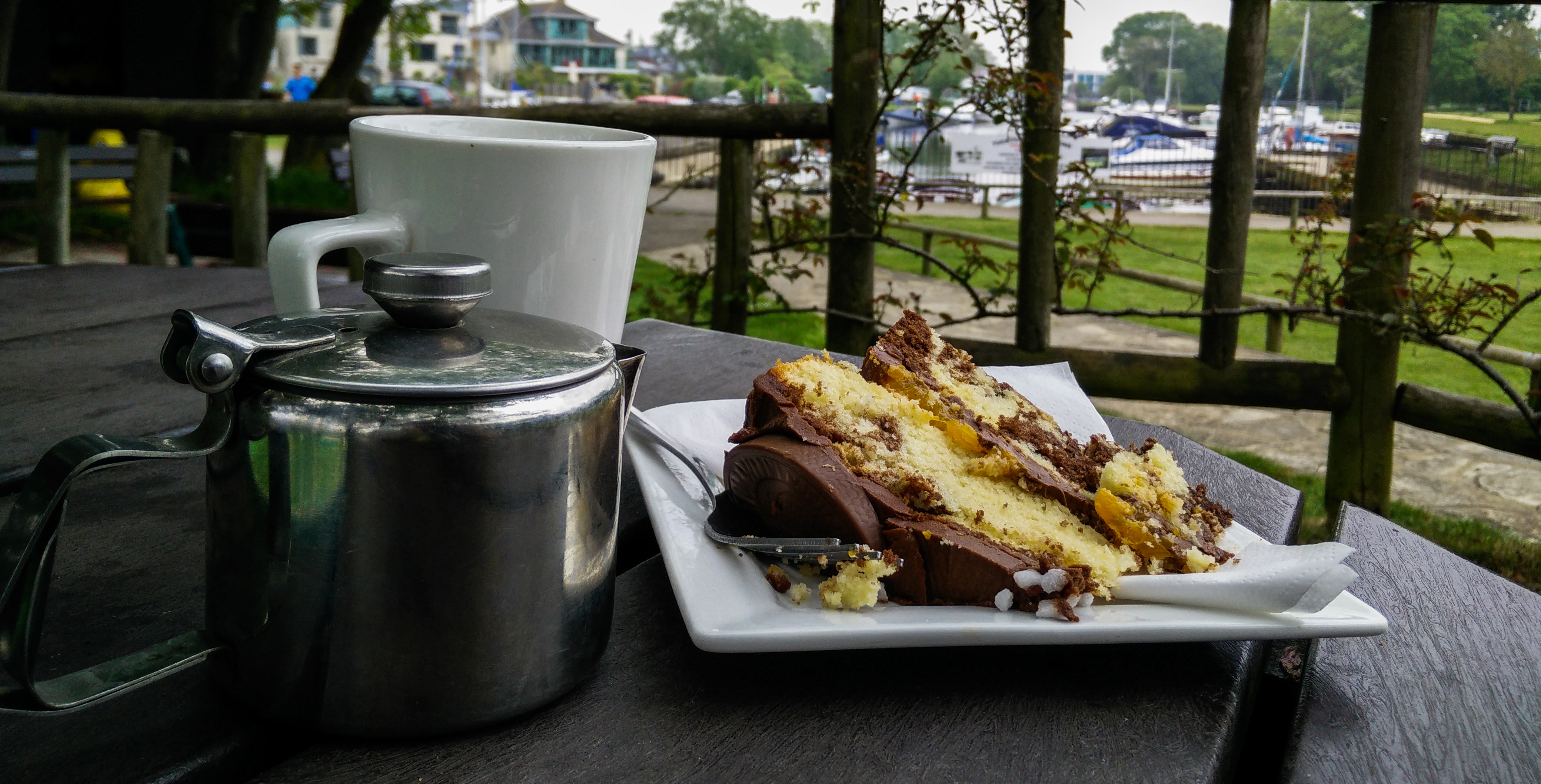 ---
The majority of the rest of my day's ride was along the promenade from Hengistbury Head through Boscombe, Bournemouth and to Poole. Interestingly, no cycling is allowed on the promenade between 10am and 6pm throughout July and August. Its easy to see why too - weaving through the crowds wasn't easy even with today's relatively sparse crowds.
An added excitement of this journey is the 10-minute-or-so of ferry ride.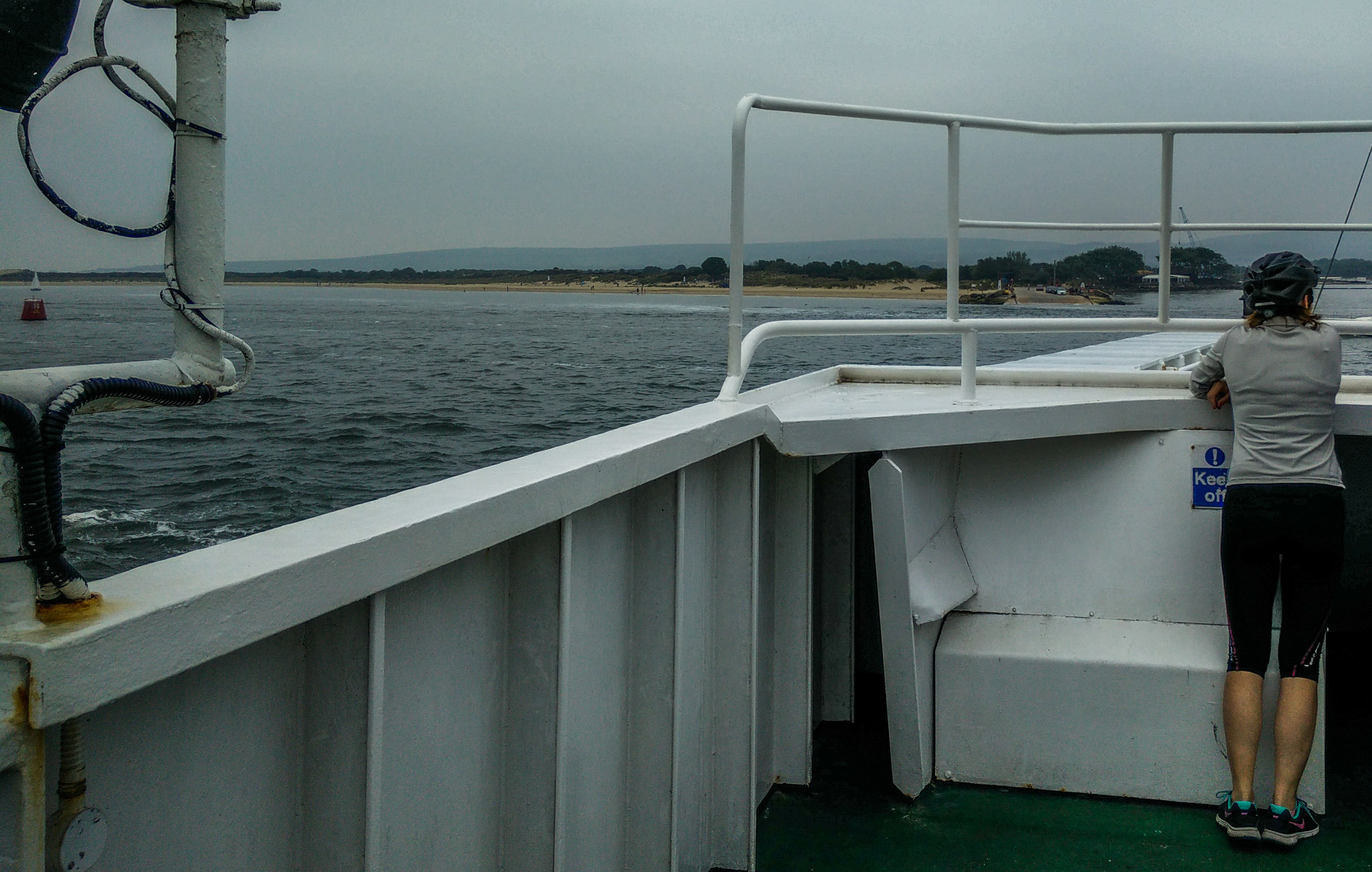 The hills leading up to Swanage were the first real climbs I'd encountered this trip and they almost killed me. The exhilarating downhill into the village, however, more than made up for this. The ice cream on the seafront helped too.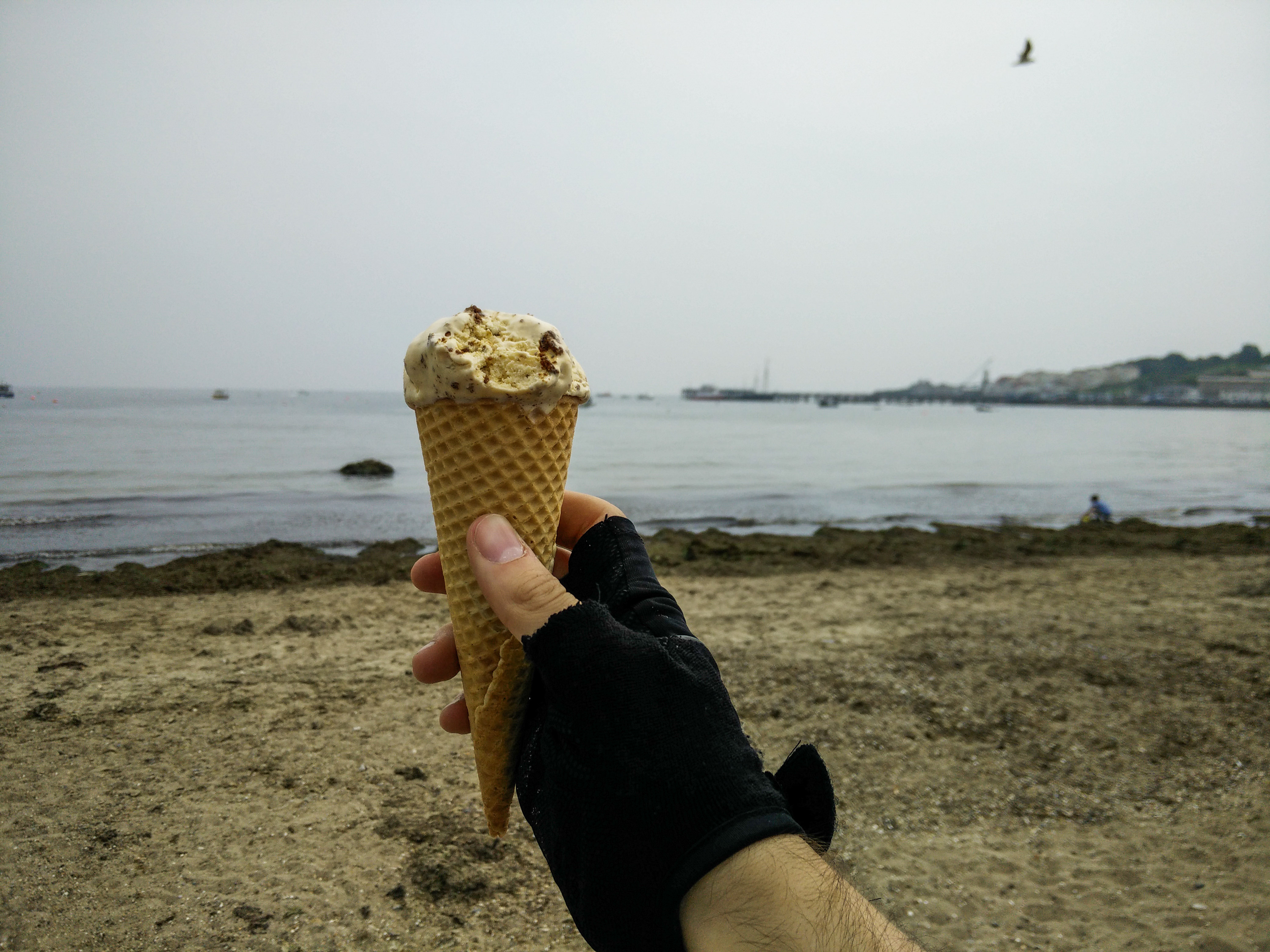 After checking into the hostel, I headed down to the chippy for a rather tasty portion of the daily special, rock and chips, and set off along the coast path towards Dancing Ledge - a seaside spot I used to frequent as a child with my family.
A map showing Dancing Ledge
Contrary to the forecast - thunderstorms - the weather was beautiful. So beautiful I had to stop at a beach and have a quick swim before reaching my destination.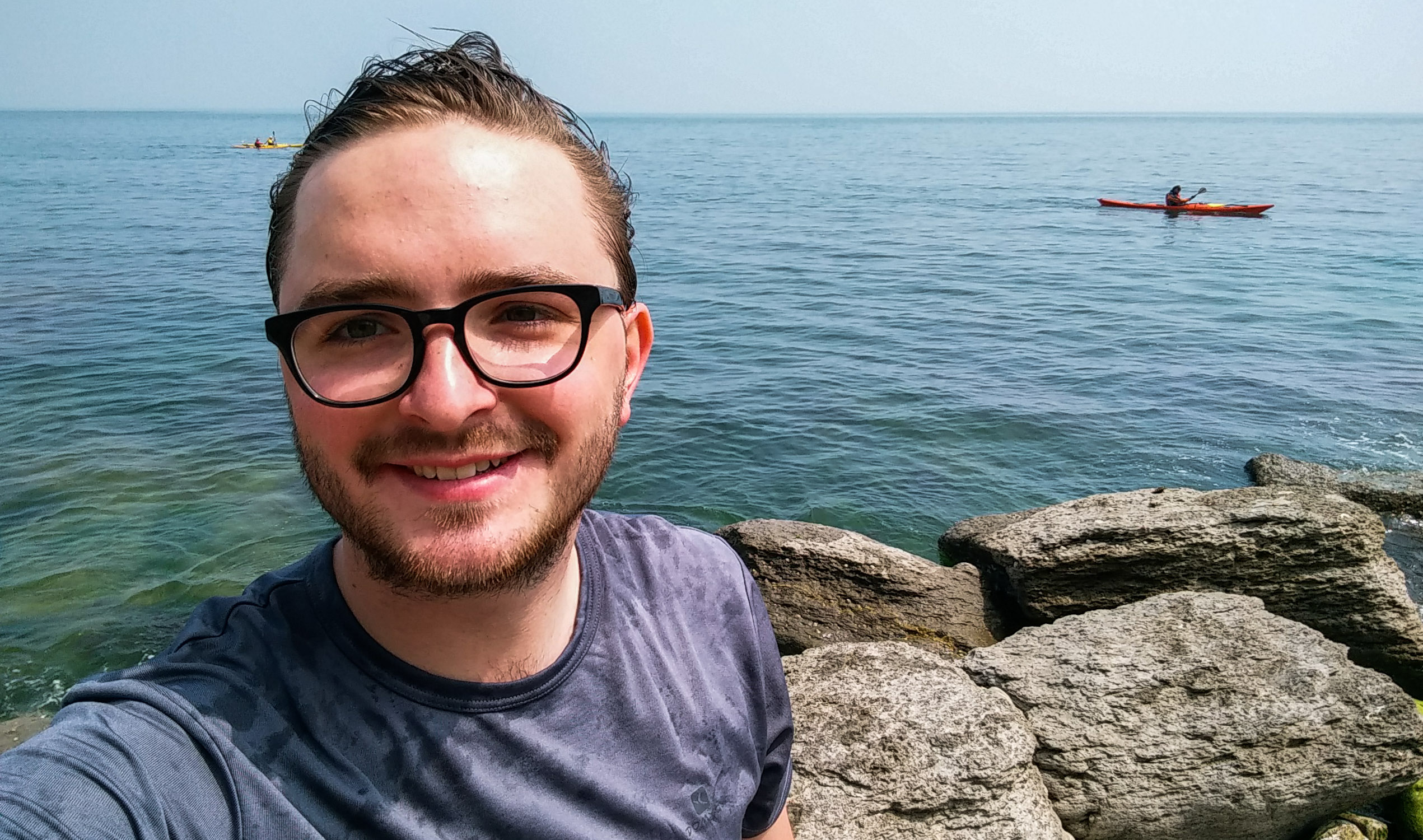 When I finally arrived at Dancing Ledge, the climb down was far less daunting than I'd remembered but the water was just as cold!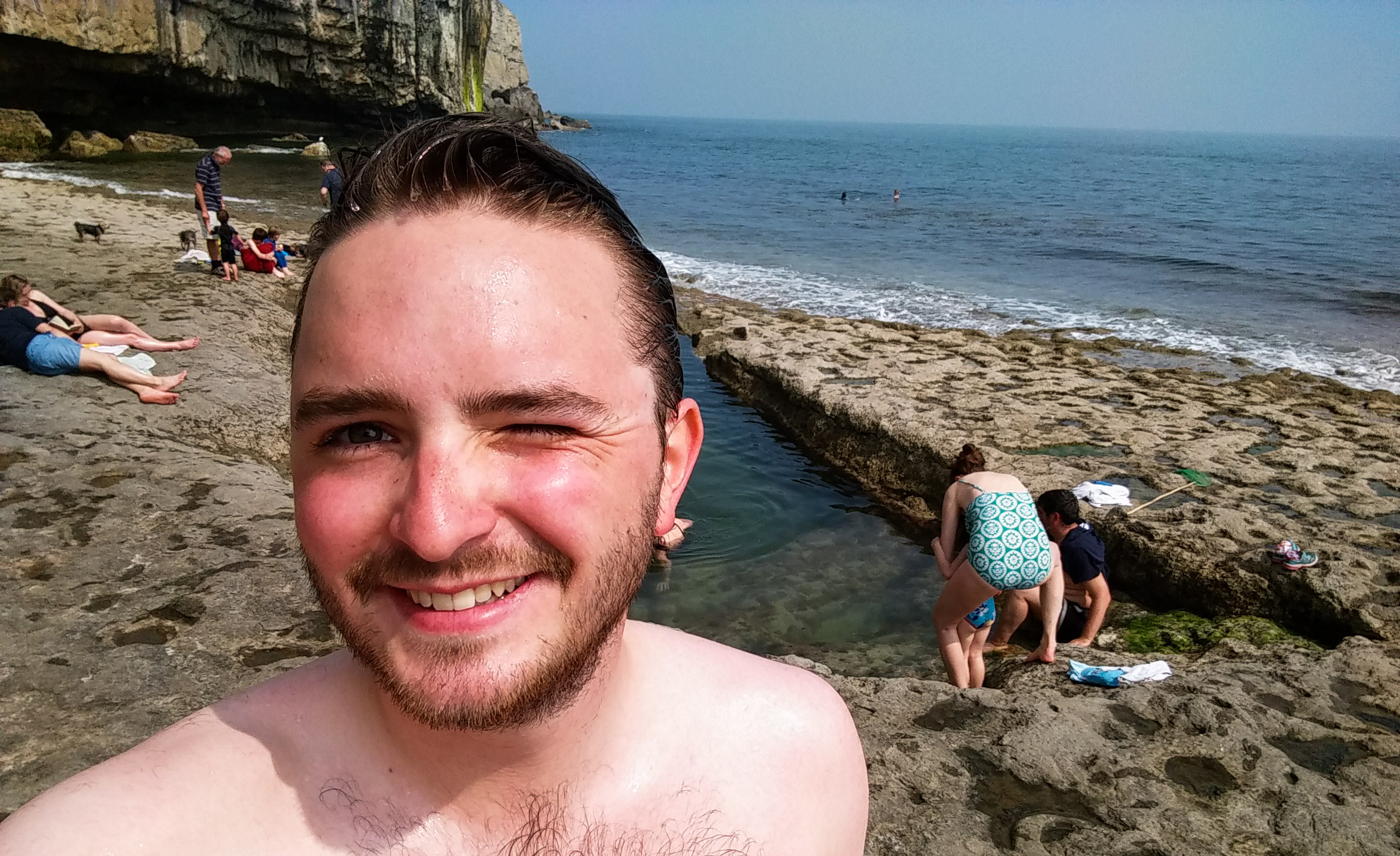 I cut back over the hills rather than following the coast path back. This provided variety but also, more importantly, a little rest for my already aching legs.
Another family tradition is to have a Kebab from Rainbow Kebabs - so, of course, I had to oblige. Sat eating it on a bench by the beach I felt the sun on the back of my neck - I was not prepared for this weather! After a quick potter through the village I headed back to the hostel armed with an almond croissant and made myself a pot of tea.
---
Sunday
The forecast storms seemed to have bypassed me yet again on Sunday and the sun was shining intensely. Having filled my platypus to the brim, I started my day by walking the 6 or so miles to Corfe Castle. I plotted my own route on the OS map and headed out.
My route was fairly direct and, having been planned on a map with no knowledge of the area, involved some less commonly trodden paths - for better or for worse. The paths where hard to find and required a moderate map reading ability5 to hunt down. But when I found them they were beautiful, untouched. I only had to hop over two gates and only one of those was as a result of going off course - and only by a few metres, I just couldn't find the stile!

After a quick stop off for an ice cream and watching the train go by, I continued my walk alongside the railway and into Corfe Castle.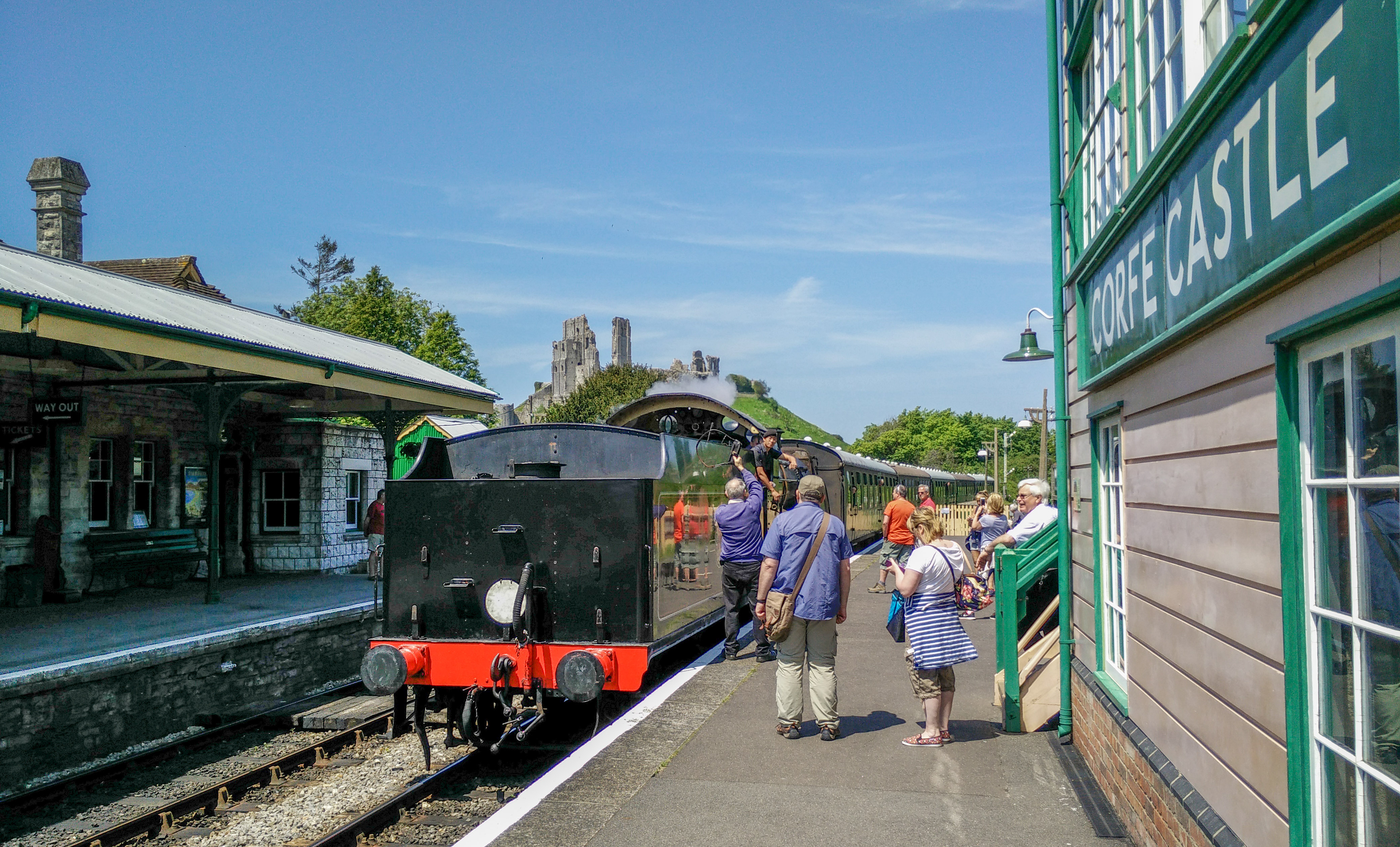 Upon arriving in Corfe I bought a sandwich from the bakery and waited for my steam train back to Swanage. I felt a little bit like a child6, excitedly sat in my compartment (just like the Hogwarts Express!) and sticking my head out the window.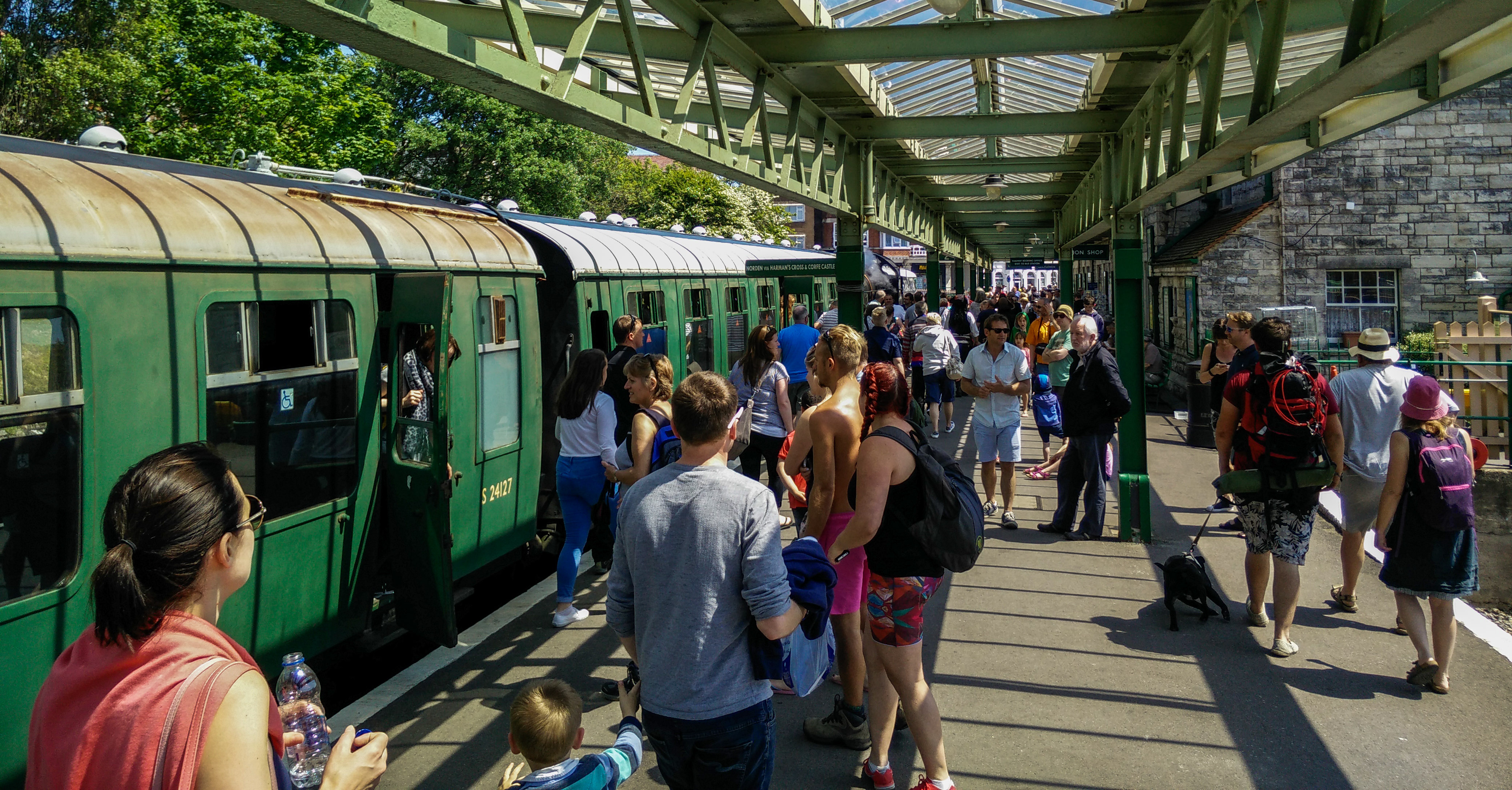 The cycle was hard. It was hot and the hills were... hilly. Studland Heath drags in the sun with little shade and endless heathland. The journey got more exciting after the ferry over to Poole - the seafront there was more interesting and provided many obstacles along the promenade to keep my mind busy. Toddling obstacles, obstacles on the ends of leads and obstacles on scooters proved to be most problematic.

My sister's house is just beyond the far end of Bournemouth's Upper Gardens which makes for a pleasant ride. Bournemouth, it seems, has great cycle paths. I spent the afternoon enjoying the sun and some hard-earned pints with her boyfriend followed by dinner at my sister's work.7
---
Monday
Following a breakfast of French toast courtesy of my sister, a couple of rounds of Cluedo (what else do you do on a lazy bank holiday Monday?) and a quick re-stock at Aldi I set off on the short leg of my journey back to the New Forest. I decided to go via the coastal route and stopped along the seafront for lunch.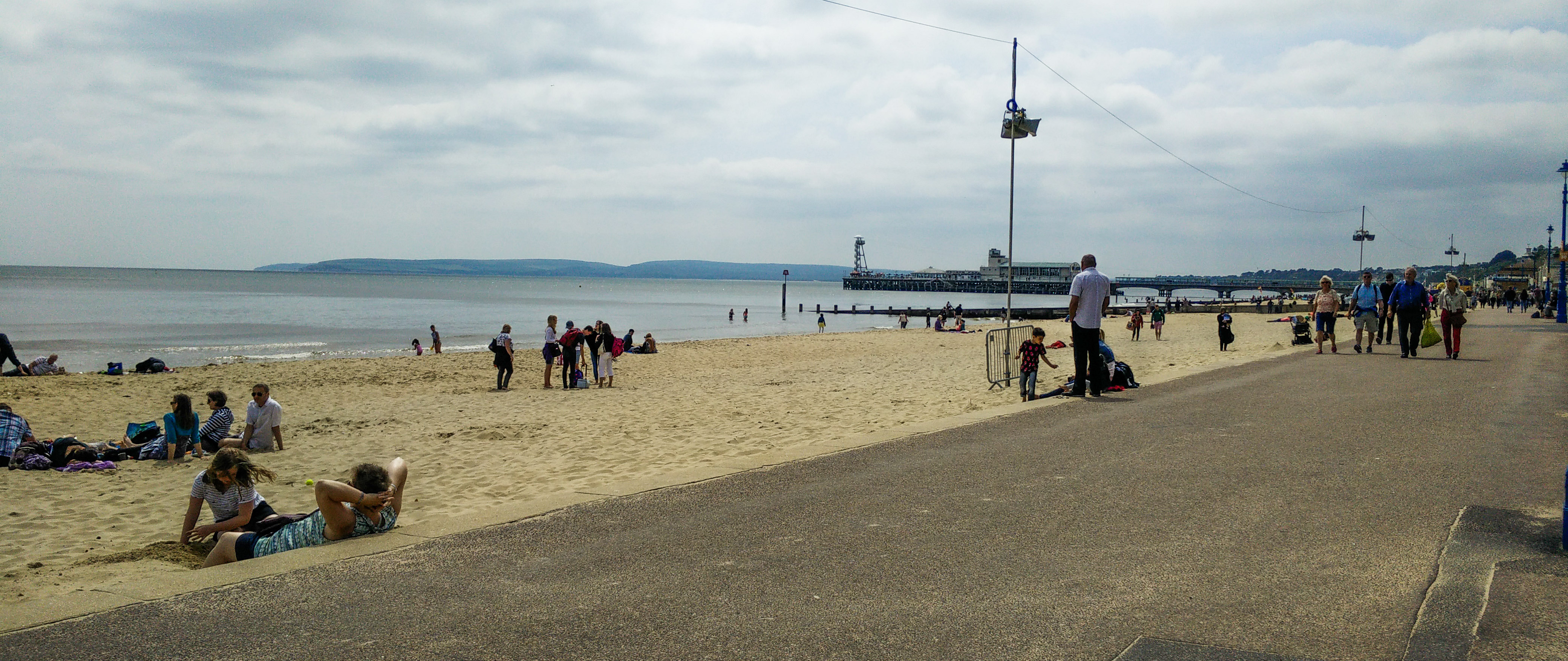 Although one of the shortest legs of my journey, Monday's was the most boring. The dragging journey wasn't helped by the end-of-bank-holiday-blues that seemed to plague everyone I came across.
I stopped again at Tuckton Tea Gardens but was sorely disappointed with my half-pot of tea, stale slice of cake and less friendly service.
Eventually the monotony of roadside cycle paths gave way to country roads and I began to cheer up after I saw a small mouse scuttle across the road, narrowly avoiding my tyre - finally back in the countryside!
I spent the evening pottering around YHA New Forest before finding myself a cosy spot on the sofa in front of the TV.
---
Tuesday
After much deliberation the night before, I decided to cycle the 7 miles to Brockenhurst and catch the train to work rather than cycling the whole way. There were two reasons for this: firstly I was tired, I could probably make it but I'd ache; but secondly, and the deciding factor, I realised I had forgotten to bring my gym pass with me - the thought of a what I knew would be a long day at work after 30 miles and no shower really did not appeal.
The morning was beautifully sunny while refreshingly cool, like only a summer morning can be. The Forest was quiet again and the animals weren't quite yet expecting human passers by, so were a little sluggish.8
The stretch of National Cycle Route 2 between Brockenhurst and Burley/Holmsey Campsite is my favourite stretch and it was beautiful this morning, even if my mind was partially on the day ahead at work.
Relief washed over me as I stood waiting for my train. I wouldn't say I'm glad that it's over as such. Perhaps more in a proud or accomplished sense.