Today's ride was based around a series of errands I had to run while I had no money to spend. As a result, I decided to cycle between my destinations.
First of all, I had to volunteer selling tickets for the production of Alice by Arcade Youth Theatre at a coffee morning run by the church. Pots of tea at this coffee morning cost just 50p! I cycled the 10 minutes or so, settled down with my tea and got to work promoting the show.
My next destination was a garden centre about 30 minutes away. I had been given a voucher for a free lunch there (I'd have to buy the tea).
Although mostly along roads I knew well, the ride was enjoyable thanks to the beautiful scenery and winding country roads towards the end of it.
Tea was a little more expensive here at £1.95 but still certainly affordable. My voucher entitled me to the most expensive thing on the menu - an impressive portion of fish and chips!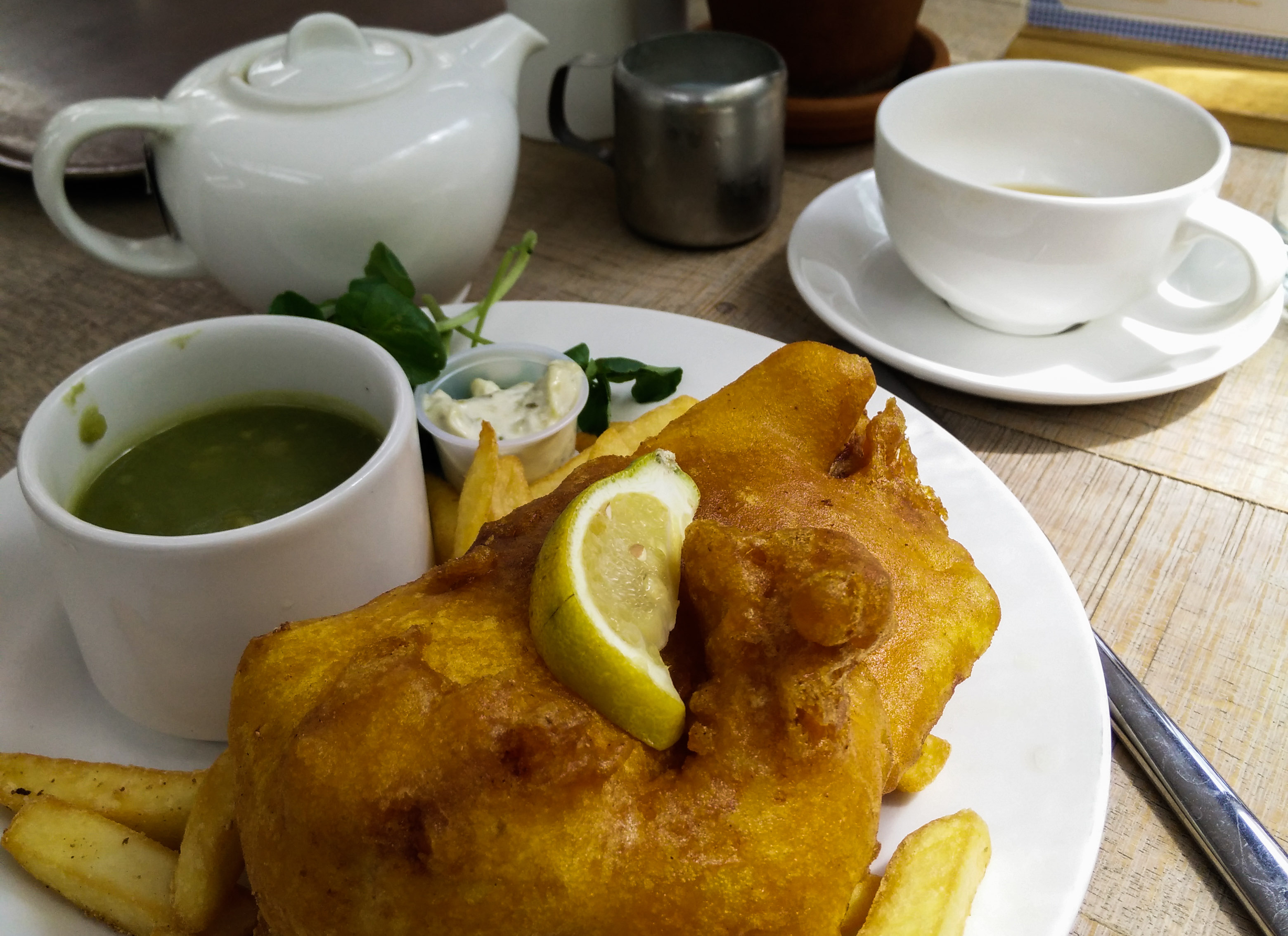 As I queued for my lunch, the heavens quite unexpectedly opened. I sheltered until the sun returned and then set off again. My next stop was to be John Lewis in the centre of Southampton where I had a free pot of tea and a slice of cake awaiting me (thanks to a very generous voucher)!
The route I was planning to take, I knew. The way back to the start, however, I did not. My sat-nav took me off the road sooner than I expected onto a gravel bridleway. The track continued through a small patch of forest I was unaware existed. Stoke Park Wood is a beautiful patch of woodland with bike trails made quite technical by the recent downpour - and right on my doorstep too!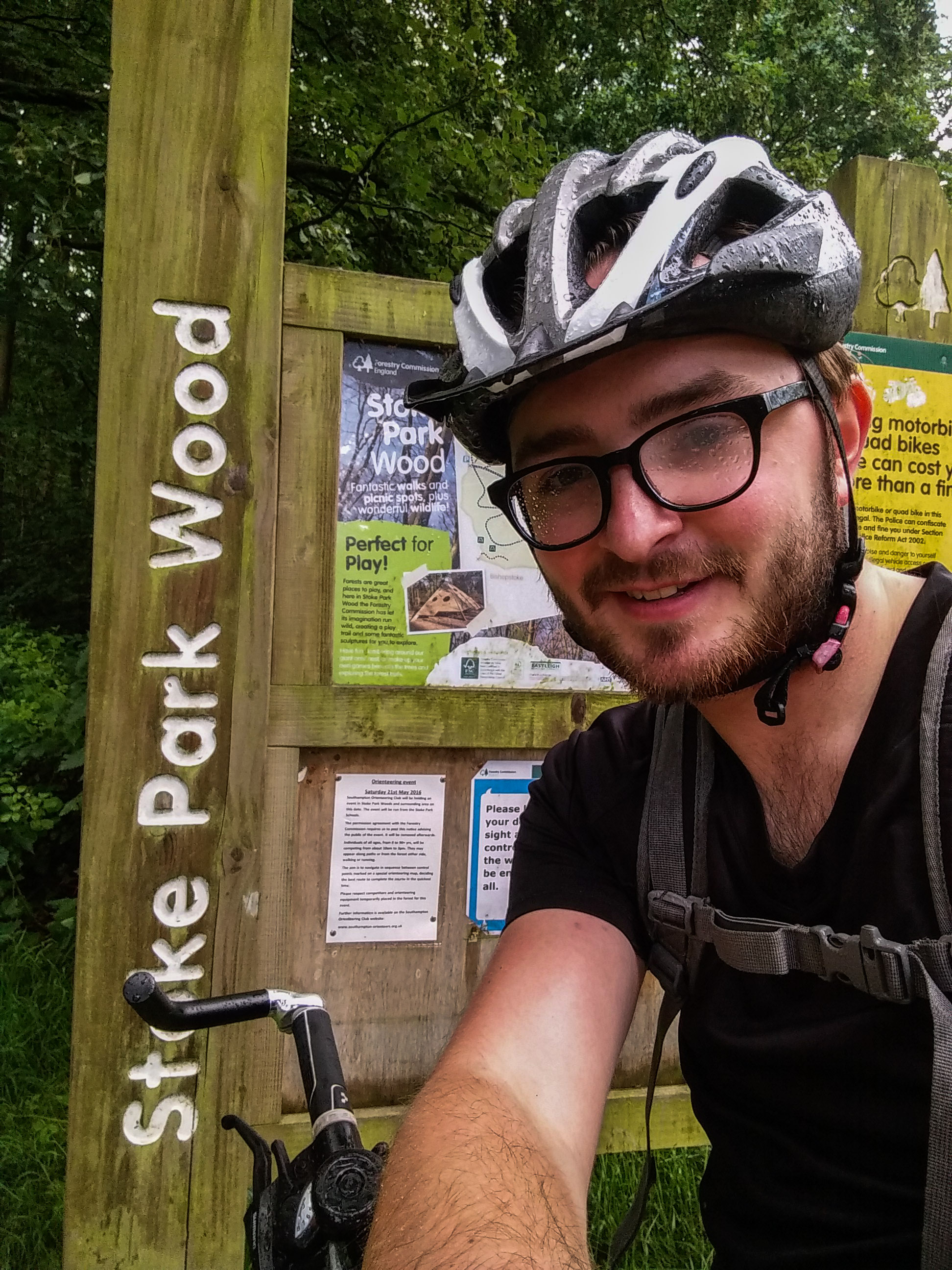 The mud and gravel tracks gave way to tarmac as I entered civilisation again. It's an unfortunate inevitability, adventuring near to home. But the roads didn't last for long before I was back on a tiny track alongside the Itchen. The path is always overgrown. I remember it being so the last time I cycled it too - it made it a challenge. This time, however, it was far closer to a slog than a challenge. The plants had crept so far over the path, I'm not sure I could describe it as such - simply a continuation of the bushes.
There comes a point where a path becomes so narrow, there isn't enough space to fit you and your bike side-by-side and it becomes easier to stop pushing and ride it instead.
Nettle stings, in fact, are far less painful than you probably remember from your childhood and are nothing particularly to be afraid of; the worst simply warrant a quick expletive and a mild on-and-off irritation for the rest of the day. In fact, I've caused myself more harm trying to avoid nettles than simply ignoring them and getting on my way.
The above was vital for today's ride. Especially when you're confronted with nettles on one side and a river or barbed wire on the other.
Eventually the narrow trail opened out onto a dirt road and that was when I noticed my flat tyre; the ominous black cloud; and the thunder.
Thankfully I had some tyre patches and tyre levers with me, so I hastily repaired and reinflated my inner tube and reluctantly set off in along the road in the direction from which I had come. Depending how the weather and my tyre faired, I'd either head to my destination by road or cut back home. I couldn't continue along the footpath - I could see it getting even more overgrown ahead and I'd already punctured one tyre!
You know the rain you see in films and on TV that just looks fake? Well, that's what happened next. I sheltered beneath a large tree but it made no difference, the rain fell straight through the leaves and flowed around the branches and beneath them. So I turned on my bike lights and braved it.
Home was only minutes away but by the time I got there, I was soaked to the skin. I stepped straight into the shower, helmet, shoes, mits and all. I was wet enough that the shower made me no wetter but did warm me through. Removing warm wet clothes is far more pleasant than cold ones.
So, a failure in the sense that I never completed what I set out to do. But a success in that I had an adventure: I'd enjoyed it, warn myself out, discovered places new and been out in rain so intense I actually "whooped" as I peddled through it.
Not a bad day for £2.45.
Organising your own Tea Round
Plan a cheap day out by having cups of tea near where you live. Think of it as a pub crawl... that's doesn't inhibit your ability to cycle.
You can do this as a walk or a bike ride; it can be as easy or as hard as you like: just vary the distance between and frequency of your pitstops.
Cheap teas and coffees are available in all sorts of places.
IKEA gives free teas and coffees to IKEA Family members on weekdays.
John Lewis gives My John Lewis members vouchers for free tea and cake every once in a while.
Being a MyWaitrose member entitles you to a free hot drink every day at Waitrose - some even have cafés.
Wetherspoon's pubs have unlimited refills on their filter coffees until 2pm.
Your local garden centre is a good place to check out. It's probably in a fairly rural place and most likely has a café. The one o visited had a loyalty card system which is how I got my free lunch.
Of course if you can find any tea rooms, these tend to be located in much nicer places. You may find the prices are slightly higher though.
Community centre and church coffee mornings are a great place to find a cheap cuppa, if you can find any.
If you have any other advice for good places for a cup of tea, please let me know and I'll add it to this post.