I write to you huddled beneath a leaking pub-garden parasol in Exton. It's been chucking it down for the past few hours. Relenting only to remind you how pleasant a walk on a dry day can be before continuing its downpour.
Nonetheless, I have thoroughly enjoyed the last 18 hours: I've been on an adventure!
The 13 miles from Winchester to Exton is easily achievable in a day - but where's the fun in that? I set off straight from the office at 4:30pm, through the city centre looking thoroughly out of place with my hiking boots and a pack on my back.
After crossing a bridge over the dual carriageway, just 45 minutes after I had set off from work, I got my first view of the countryside.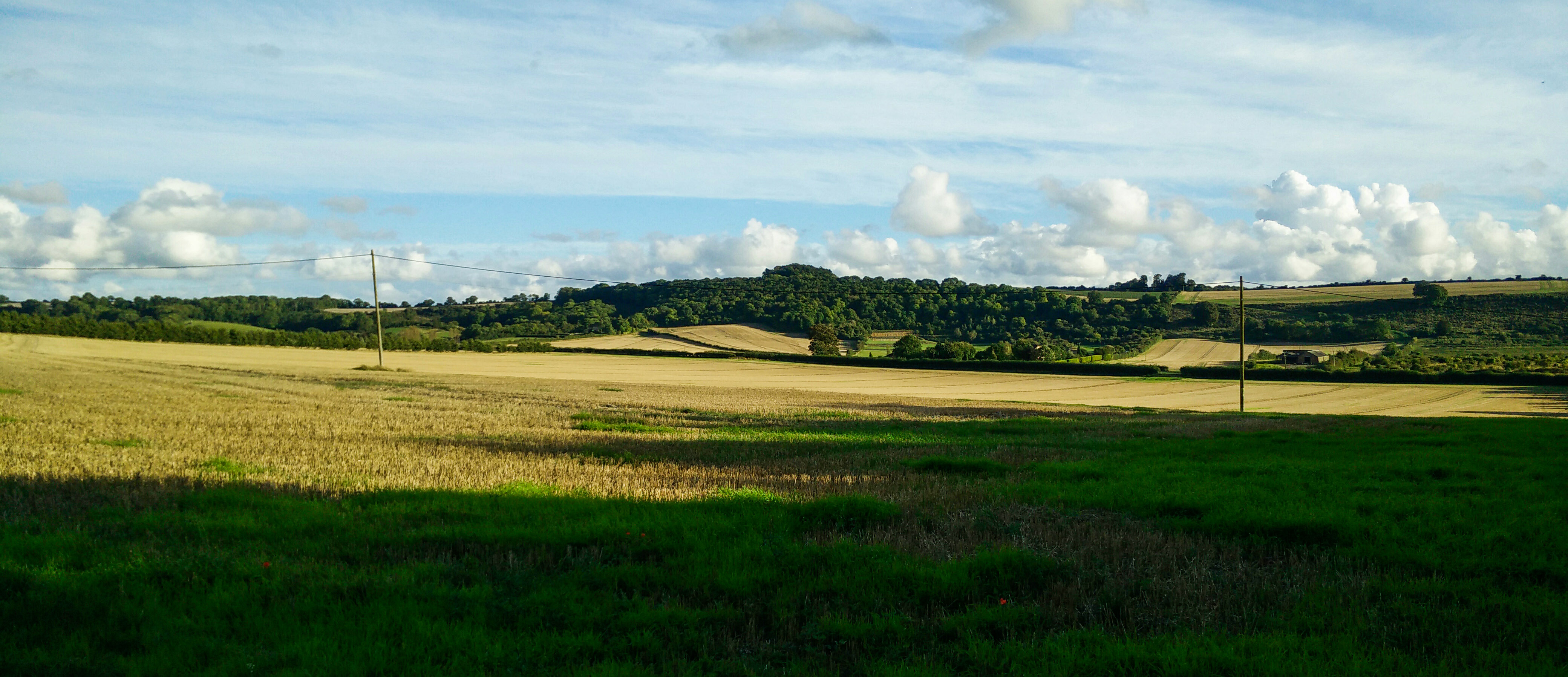 The South Downs Way starts somewhere in the centre of Winchester although I can't seem to find any real consensus of where exactly. For the purposes of this, we'll start it by The Bishop on the Bridge pub, opposite the old mill. Between the pub and the bridge its named after there's a small footpath that takes us towards The Black Boy, a fantastically quirky establishment. After crossing the road here sign posting becomes more prominent.
Saddening as it is, considering how close I live and work to the South Downs, I've only very recently began to explore the nation's newest National Park and this was my first time ever by foot.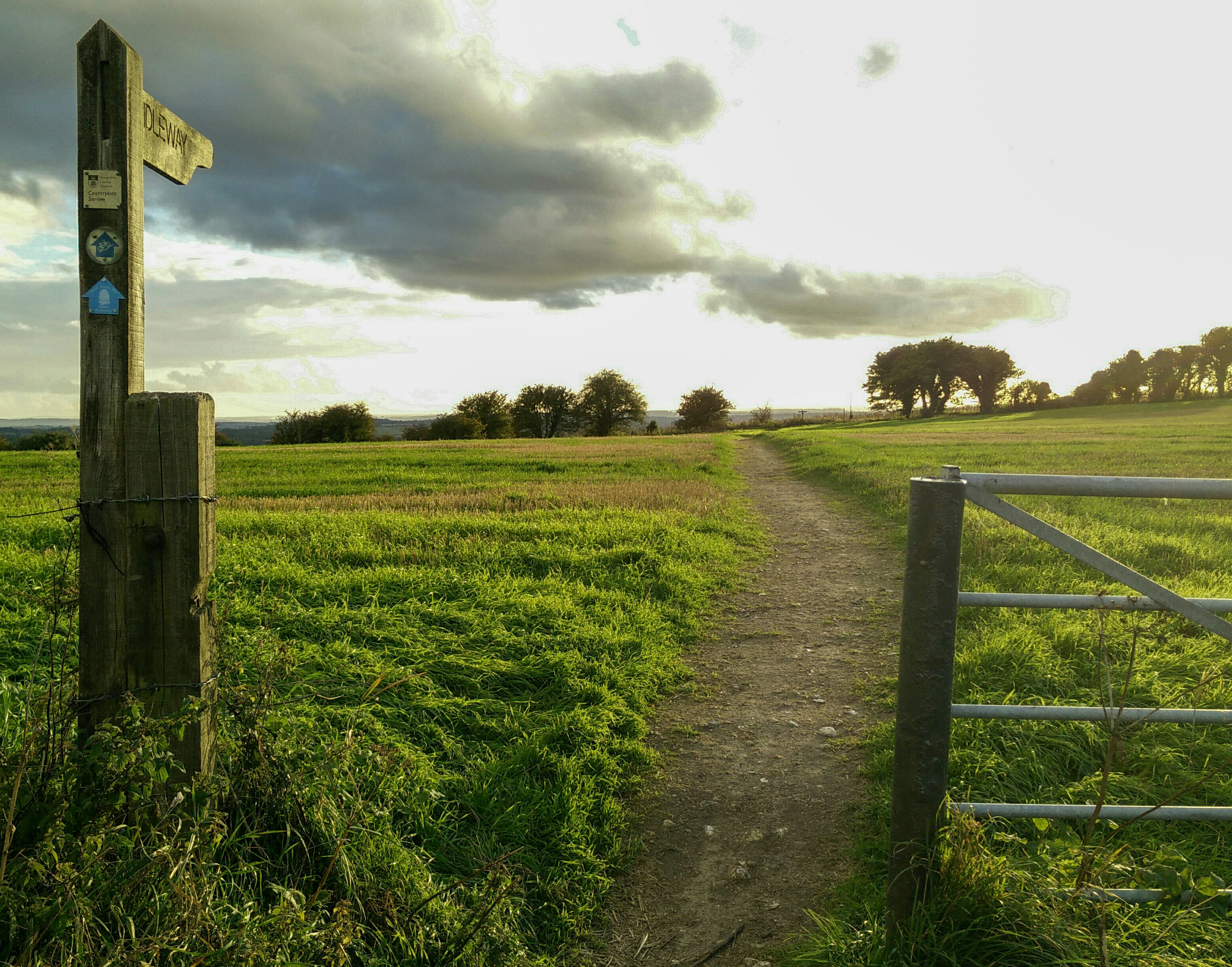 I knew the trail up to Cheesefoot Head1 from bike rides with work but by foot you can appreciate the route in much more detail.
Boomtown festival takes place in the valleys around Cheesefoot Head towards the end of August and the South Downs Way directs you straight through the aftermath: little pieces of plastic; cardboard; a stray tent; and even someone's entire wardrobe were strewn in the fields and trees around me. The landscapes, however, were still beautiful despite the littering. A totem pole, presumably another leftover from the Fair, stood proud in an otherwise plain field, brightening the dullness brought on by dusk.
Sunset was at 6pm, so I was keen to find a place to sleep before 7. I looked in every patch of woodland and at every field border before settling for a small hollow in a hedgerow alongside the bridleway. I slung my hammock between two trunks and settled down for the 11 hours of darkness ahead of me.
My hammock wasn't quite taught enough for a comfortable nights sleep2 so I woke every few hours. Wildlife here seems to be limited to pheasants3 so it was eerily quiet with not even an owl's hoot to sing me back to sleep.
By 6am I was awake again and keen to set off. The sun hadn't risen by that point but I knew the first light wasnt far off. By the time I'd packed away I could see quite well without a torch and began the day's journey with the morning mist filling the gaps between the trees lining the hilltops.
As the morning brightened I stumbled across a fantastic view over a valley filled with pheasants and the sun rising behind. I set up my portable stove and cooked my breakfast of porridge.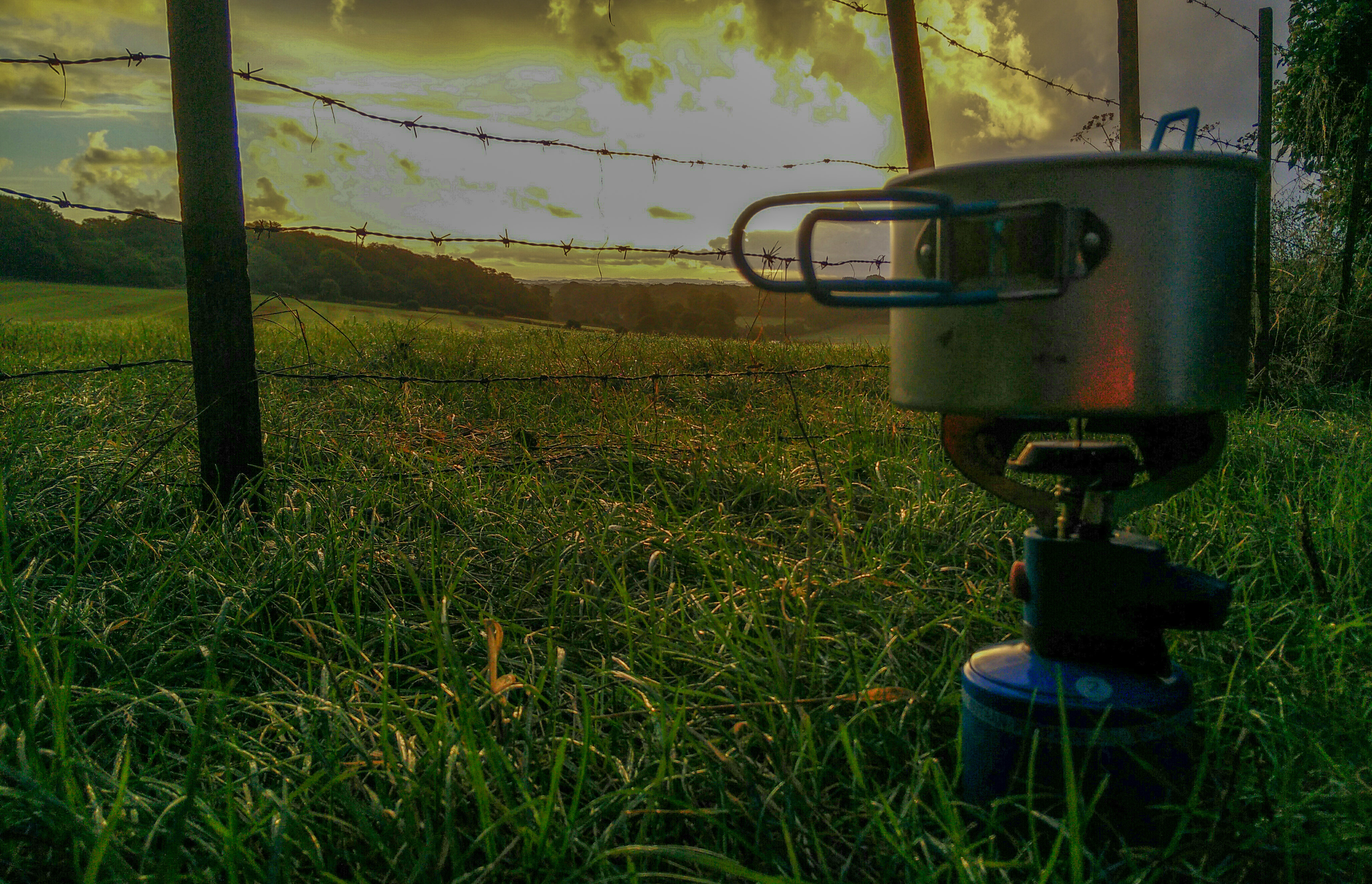 That was when it started to rain. Lightly and in showers as predicted by the forecast... at first. I looked at the forecast again. What had been numerous light showers was now a morning of solid, heavy rain. I checked how far I had left to go. Only 7 miles remaining - I'd be done before midday. So, I arranged a lift home for 11am from the village of Exton so I could get out the elements and dry off.

Walkers were sparse on the trail, but there were a few groups of cyclists out for the day who provided friendly greetings and mutual sympathy for the weather.
The countryside was more beautiful on this half of the journey thanks, presumerably, to being further from the city. Larger, more industrial farms turned into quaint little fenced fields and there was no sign of festival debris anywhere.
Beacon Hill is a beautiful little nature reserve and the walk is especially picturesque down from there into Exton, even in the rain. Walking along the rather permanent-looking "temporary South Downs Way route", I stopped to pick blackberries at the field boundaries, a serious advantage of walking this time of year!
Which brings us back to me huddling under a pub umbrella in Exton. It's a small village and the only thing in it is a pub which, unfortunately for me doesn't open until 11am. Still, not long until my lift arrives and it's home for a hot shower!