A couple of friends invited me to climb mount Snowdon this weekend. Unfortunately, they were travelling up on the Friday morning while I had to work.
Desperate to join and after discovering that YHA offered late check-in, I managed to hunt down a (slightly more) affordable train that arrived into Conwy at midnight.
I came into work early so that I could run away as early as possible. At 4:15pm I legged it to the train station and began my journey. After a quick pint in Waterloo with a friend and a cheeky Burger King, I headed off to Chester from Euston.
Writer Jini Reddy mentions her pet gripes with rail travel:
the less said about shouty, beer-swelling tribes, the better.
Those shouty, beer-swelling tribes are more common than I'd like, especially on late night services... like the one I was on.
A good technique, I find, for avoiding them is to be sat with headphones on watching a film on a tablet. Peace and quiet. That is until I got off at Chester and one of these same beer-swelling1 men decided to ignore the fact I was trying to listen to my podcast and talk and talk and talk at me. He also invited me for a drink which I politely declined over and over and over. Eventually he left and, after sharing relieved looks with a lady in the waiting room, I was at last left to myself.
After boarding the final train I discovered Conwy was a request stop - something that I wasn't even sure existed until that moment! The guard kindly explained this to me in a soft, reassuring Welsh accent. Jini captures my thoughts pretty accurately on this matter too:
a nailbiter - I might have requested the stop but would the driver pull in or wouldn't he? (He did.)
He stopped for me too.
I find an adventure can often begin with the travelling, especially by train - there's an excitement that comes with journeying clad in hiking gear with a large rucksack and hiking pole strapped to your back2.
I arrived at YHA Conwy at just gone midnight and was greeted by an envelope with my name on it at reception containing my key and check-in information. I dumped my bag in my room (guarded by a loudly snoring gentleman) and set off in search of fellow hostellers.
I stayed up for an hour or so talking to a group who turned out to live in the next town along from me and another group who lived half way across the world. I love the variety of people you meet at hostels but they're always (so far) lovely and have interesting stories to tell.
---
I woke early the next morning and tucked into a fry up staring out over the hills. I was meeting my friends at 9:30 to drive down to Snowdon so took advantage of the spare time to explore locally. I had earmarked Conwy Mountain3 (Mynydd y Dref) as my destination and I set off in the beautiful sunshine.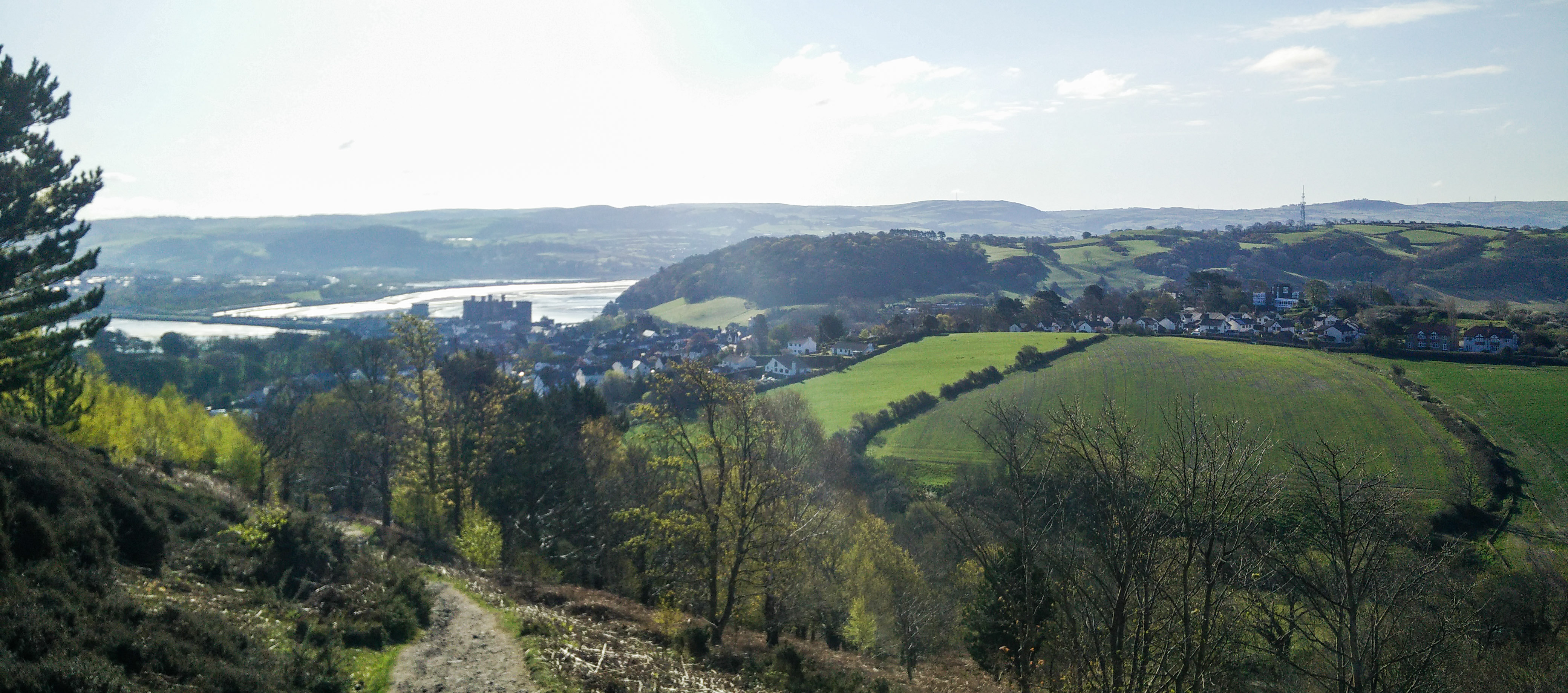 On my short hike, I met a gentleman who lived in Conwy working as a geologist. He was taking full advantage of his location and was hiking up to the summit to paraglide. We discussed how kind the weather was considering it was a weekend in Wales. He pointed out landmarks in the panoramic views and recommended some local places for food and ales. Unfortunately I had no time to try out any of his recommendations. I guess I'll just have to go back!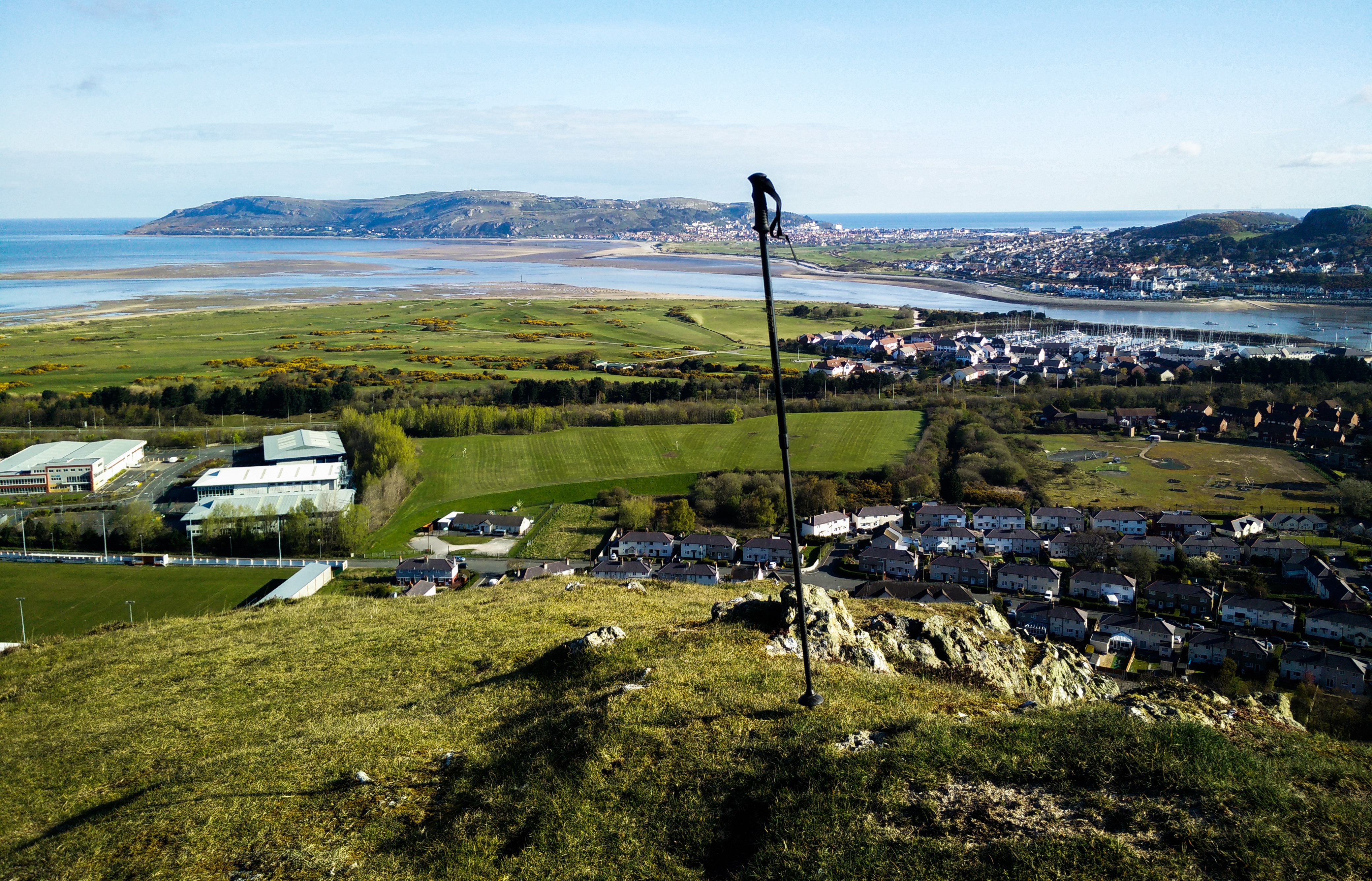 ---
We couldn't believe our luck arriving at Snowdon, sun blazing and a parking space in the £10-a-day (!) car park - neither of which were expected.
We began our journey up the Pyg trail as part of the mountain-climbing crowds. We made good time and, even with stopping for photos and appreciating the stunning views, made it to the top quite quickly.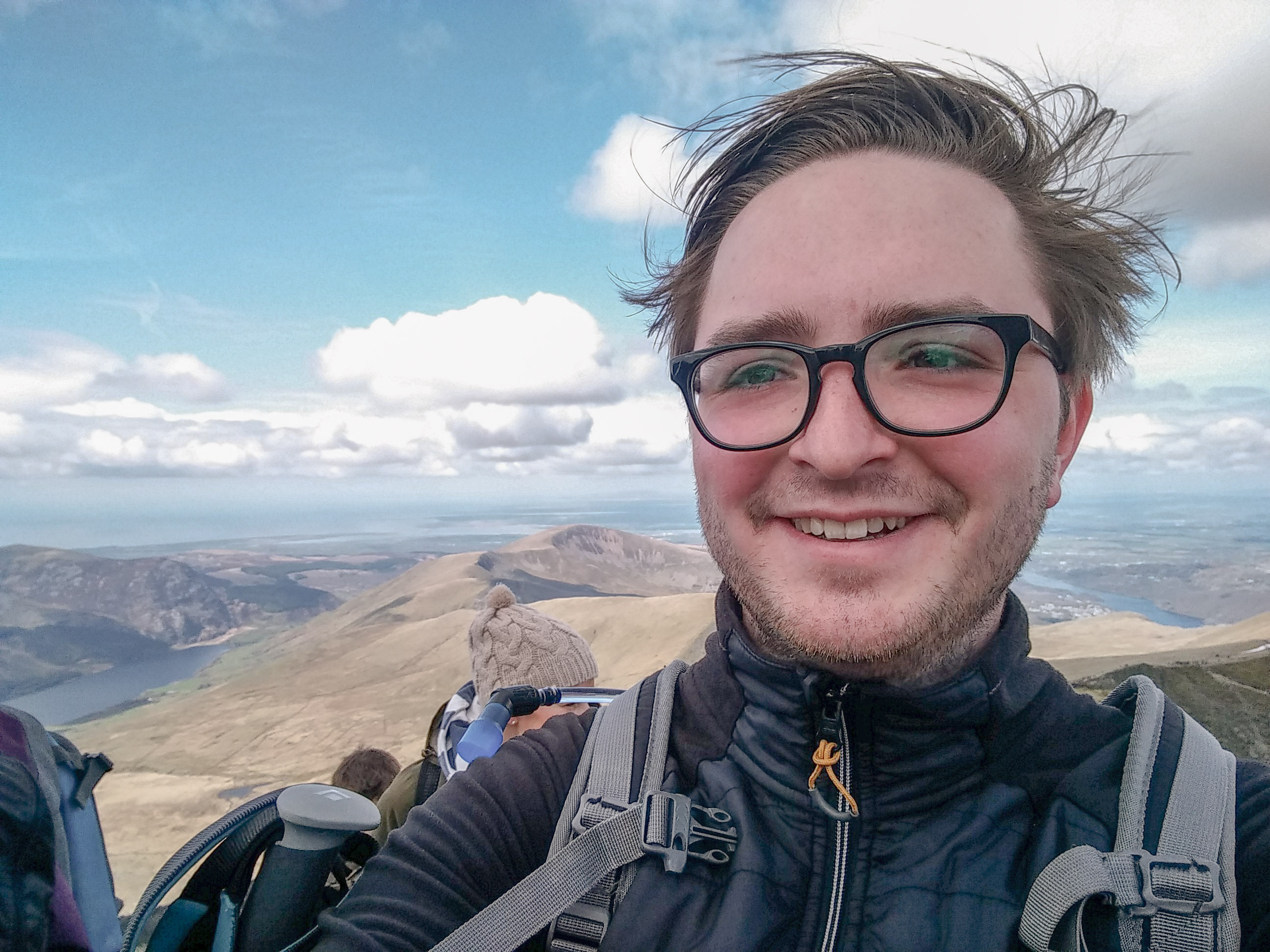 We couldn't believe our luck having views across Snowdonia interrupted only by mountains rather than the usual cloud cover.
During the warm ascent we had decided a swim in the heart-shaped Glaslyn lake on the descent. The sun had gone in and the wind picked up by the time we'd made it back down but I still quite fancied the dip. The others whimped out.
The gravel bed dropped away into blackness less than a metre away from the edge so I paddled in the cool water for only a step or two before diving in head first. The deep pool was freezing - it felt like the morning's sun had made no impact on the temperature at all. It was still refreshing but I only managed two strokes into my swim before returning to land to dry myself with a fleece and wrap up in my down jacket.
The rest of the journey was beautiful, if uneventful, strolling along the flat winding path that is the end of the Miners trail.
We made it back to the car just before it began to hail - good timing! The day was rounded off by a welcome shower back at the hostel, an even more welcome ice cream on the seafront - Turkish delight flavour! - and finally fish and chips.
Back at the hostel, my new North American friends and I talked and played Jenga well into the night.
---
On Sunday I got up early again (though not as early as planned as a direct result of late night Jenga) and headed for the hills.

I set off in the same direction as the day before but with more time on my hands I got further, wandered aimlessly and had time to take in the views.

Finally, to end off the weekend, I met up with Jen and Scott (my friends from home) for lunch in the Tower Coffee House, a beautiful little tea rooms in the tower of the old town walls - a little on the expensive side, perhaps, but a lovely place to sit with an even lovelier view and the staff are lovely too.