Friday night after work, in a desperate attempt to find a valid excuse to not be in the gym, I decided to go on an adventure.
I got home, quickly made up a picnic, grabbed my bike and left with two hours 'til sunset. My plan was to cycle to the first train station inside the New Forest, finding a picnic spot en route, and return by rail. That was the plan.
I peddled along the cycle paths that took me to the edge of town. Reaching the last convenience store before leaving, I heard the familiar beep, beep, beep of the hole in the wall. In response, my wandering mind realised something. I realised I'd left my wallet behind. No train home. No emergency cash should I get into some kind of trouble. I desperately searched my pannier for signs of my wallet or any spare cash. No luck.
I'd spent too much energy and daylight to go back so on I peddled, making up a new plan as I did so.
The road turned a corner and ran alongside some woods where I met face to face with a deer. We stood and stared at each other for a moment. I reached for my camera. The deer obviously took offence at this and bounded away through the woodland with its mate.
I continued up the hill until I found what looked to be a cycle path through the woods. I decided this would be a good spot for my picnic and perhaps an alternate route home - it was in approximately the right direction.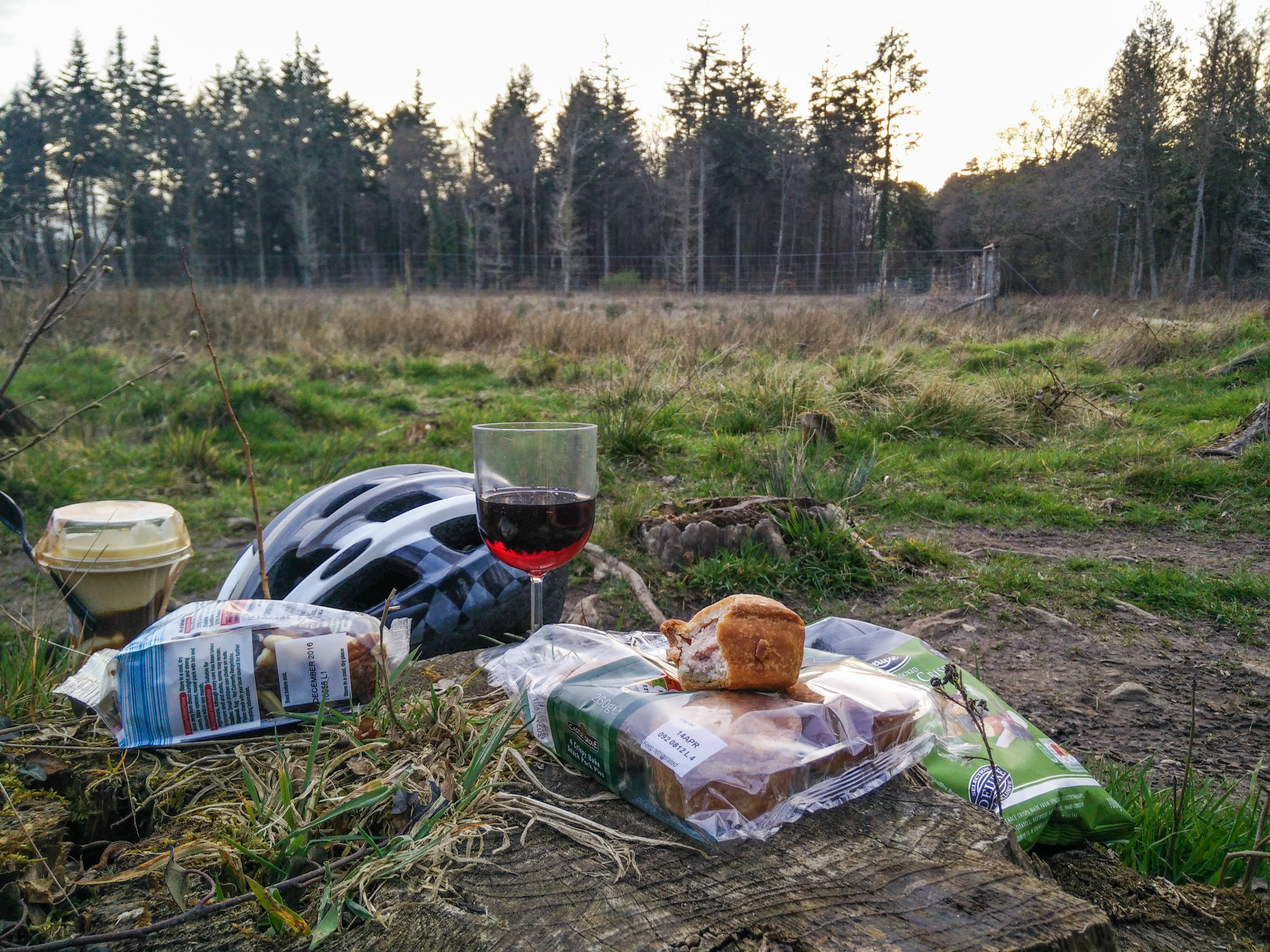 Post picnic - and now with a phone which had decided to become faulty over the course of my little trip - I headed further into the woods along the path egged on by the bicycle tracks left by past peddlers. It must be cycleable if there are this many tracks. The "path" soon deteriorated into a track and then little more than a swamp. I had to walk much of the way when my bike wheel started to dig.
I reached a dead end and then, after an exhilarating downhill chasing a panicked pheasant, another. Finally, as the darkness descended, I decided to switch from Google Maps to the more detailed Ordnance Survey app. I eventually found my way to a trail that was also on the map. I'd earmarked a small road that was on both the OS and Google maps. That was my destination at which point I'd switch back to Google Maps to navigate me home.
It was dark now. I eventually hauled my bike up the last hill and into the grounds of a hotel. A road sprawled out before me. At last! I switched over to sat nav and followed Google's directions.
Now, Google Maps in recent years has got very good at directing down bridleways and cycle paths in preference to busy roads. Which, in most scenarios is fantastic. However, on this particular evening , you can imagine how far my heart sunk when the tarmac I was happily peddling along turned to gravel, dirt and then mud. I'd seen this before!
Fortunately it was all downhill and there were only a couple of places where I had to get off and push. My breaks squeaked and squawked against my muddy wheels in response to the squeaking and squawking of the owls in the trees above. A rabbit and a bat quickly manoeuvred away from me hurtling down the bumpy track.
Then, at last, an electronic voice piped up:
In 300 yards turn right onto Castle Lane.
Castle Lane. Not only was it a road name, but a road I knew. In fact, it was a road I had been on very recently.
I was back on the cycle path I'd started on. I peddled the comparatively easy ride home, showered and finished my bottle of wine.
I'd been lost, seen a fair bit of wildlife and heard even more. I'd been cold, hungry. I'd been places I'd never been before. Despite its many failures, it still sounds like a microadventure to me!